About Me
Name: HimOverSin
Location: Arlington, Texas, United States
First off, thanks for taking the time to drop by. HimOverSin, aka Hos, aka Craig. They only allow me 1,200 letters? That's just not fair. I mean, my love for my computer is a good 800 letters alone. To talk "About Me" I have to mention Jesus since He's all that is good in me. I also love my family, country, and free speech, so speak freely in a respectful way.
Links
This work is licensed under a
Creative Commons License
.
Archives
A place of friendly discussion about whatever God has put on my heart. Christian thoughts, politics, ramblings, and intelligent ideas (from other people). This is about the good things in life . . . mostly. Even strong disagreements are fine . . . mostly. Know that Jesus Loves you no matter what you've ever done . . . ALWAYS. IF you want to keep up with blogs email me to initiate my "blogsend" and it will automatically send you updates. ( goodnewsmostly@gmail.com )
Tuesday, June 21, 2005
Yes, terrorism's favorite mouthpiece, Aljazeera newspaper is loving Mr. Durbin.

"A US senator has refused to apologise for comparing the actions of US soldiers at Guantanamo Bay to those of Nazis, while others have decried or defended the mandate and method used to hold prisoners there.

US Senator Dick Durbin on Wednesday refused to apologise for comments he made on the Senate floor referring to Nazis, Soviet gulags and a "mad regime" like Pol Pot's Khmer Rouge in Cambodia."

Wonder if a Republican would of said something this full of hate and perfect for our enemy to recruit from and get away with it. We allegedly flush Korans, keeping them from sleeping extended periods, etc. Yes, there are a FEW unexplained deaths. A FEW. Nazis? Pol Pot? Bush? Treason??

Political points are not worth a single GI's death. No doubt this single article much less the other words by leading democrats with little or no merit have emboldened the enemy. They want this to be "Bush's Vietnam" but guess who did the dying? It won't be Bush.
Saturday, June 18, 2005
Still no "good news" so...
Besides the US killing tons on terrorists as they flock to try and make it Vietnam 2, I have a decent joke here for this week's business:
Sad News in the Entertainment Community
It is with saddest heart that we must pass on the following
news. Please join us in remembering a great icon of the
entertainment community. The
Pillsbury Doughboy
died
yesterday of a yeast infection and complications from the
repeated pokes in the belly. He was 71. Doughboy was buried
in a lightly greased coffin.
Dozens of celebrities turned out to pay their respects,
including Mrs. Butterworth, Hungry Jack, the California
Raisins, Betty Crocker, the Hostess Twinkies and Cap'n
Crunch. The gravesite was piled high with Flours. Aunt
Jemima delivered the eulogy and lovingly described the
Doughboy as a man who never knew how much he was Kneaded.
Doughboy rose quickly in show business, but his later life
was filled with half-baked schemes. Despite being a little
flaky at times, he still, as a crusty old man was considered
a roll model for millions. The Doughboy is survived by his
wife Play Dough, two children John and Jane Doe, plus they
had one in the oven. He is also survived by his elderly
father Pop Tart. The funeral was at 3:50 for 20 minutes.
Saturday, June 11, 2005
I'm glad that the US and Britton wiped out Africa's debt to them. I wonder though if it will help. Will they take this economic boom and invest or retain corruption and apathy and brace for the next bail out.

I pray that they use this to strengthen their money and economy. The Africans have suffered more then anyone on the history of the planet due to greed, Muslim persecution, and the West lording rules on them that they wouldn't do on themselves. (Like banning pestesides.) A strong Africa and any stron economy will always lesson political and moral decay.
Monday, June 06, 2005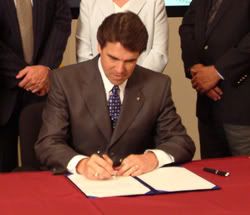 Ceremony at Christian school draws protesters
Perry signs abortion bill and gay marriage resolution
By Aman Batheja and Jack Douglas Jr.
Star-Telegram Staff Writer (I copied this article since this newspaper doesn't keep their stories online for long for free. It has been edited for length.)
(My comments in blue)
FORT WORTH - Social conservatives withstood a protest from picketers at a Fort Worth Christian school Sunday as Gov. Rick Perry signed legislation that some believe will ignite a "battle in Texas" over moral issues.
This battle has been going since the Cain and Able, enough grandstanding, just objectively report.)
Perry signed a bill requiring written permission from a parent before a minor can get an abortion. He also symbolically signed a proposition defining marriage as between a man and a woman, though it will be up to Texas voters to decide whether to amend the state constitution to reflect it.

Minors can't vote, drink, drive, but they are mature enough to remove a viable baby?? And rape/incest is less then 5 % so please don't use that scare tactic.
The governor drew criticism for choosing Calvary Christian Academy for the ceremony because some said it potentially violated a constitutionally guaranteed separation between church and state.
Yeah, Kerry, both Clinton's and many others NEVER used black churches to further their cause.
Besides,
Gov. Perry, unlike them, didn't do anything during a church service!!! It's a school, not a church service.
Perry, who has recruited a network of conservative pastors to help his re-election efforts next year, defended his selection of the school, which is affiliated with the Calvary Cathedral International church.
Gov. Perry has recruited many diverse groups, not just Christians and what's wrong with that?? Is it wrong for democrats to "recruit" their like-minded groups?
"Those people would be complaining; it [wouldn't] make any difference where we signed this piece of legislation. If we'd been in a Wal-Mart parking lot [instead], they'd still be griping about it." Said Perry.
While many protesters outside chanted "Separation of church and state," Perry said: "They don't like people of faith to be involved in this process. And people of faith are going to be involved in this process."
As an estimated 300 protesters picketed outside, some of the country's top socially conservative leaders shared the stage, each preaching the need for more religious faith in government to an overflow crowd of 1,000.
Only 300 protestors, how many agree with this decision? Multitudes more then 300.
Liberals know the meaning of words. "

Preaching

" is a buzz word for "scary" Evangelicals pushing their agenda. All groups, if they worship God, the TV, or the self, all attempt to influence society. But Christians are called out for it since there is some unity and we're an easy target since there's such a thing as right and wrong.
"The time is now to reclaim our spiritual heritage," said Rod Parsley, from the Ohio-based Center for Moral Clarity. Parsley stressed the importance of pastors and others working for the approval of the gay marriage proposition.
Dwight McKissick, senior pastor of Cornerstone Baptist Church in Arlington, said that, as an African-American, he was insulted by comparisons of the gay marriage movement to the civil rights movement. Homosexuals shouldn't "compare your sin with our skin," he said to wild applause.
I agree that homosexuals shouldn't be persecuted, but some gays do relate the past sins of genocide of slaves with their plight even though gays have a higher standard of living then most other demographics.
He scored points with the religious leaders inside the basketball gym. "Isn't it awesome," said Rabbi David Stone, "to have a godly governor?"
Again, not a pulpit, a gym!! Even churches can have services in gyms or schools when its not in session.
Some protesters were irked by the collapse of school-finance legislation during the Legislature's regular session, which ended last week. "We feel like Rick Perry has left the children behind," said J. Nile Fischer, executive director of the Tarrant County Democratic Party.
Words have meaning, I wish liberal reporters would be objective in the words they use to educate, not attempt to influence.
Saturday, June 04, 2005
Too Much News to Blog!!
Dan Rather get's fired so he gets a Peabody Award!!
In this story, Dan Rather left not due to falling ratings but "I'm not a victim of anything except my own shortcomings." It's later shown that he had little to do with the writing of the infamous story about Prez. Bush's National Guard service. This agrees with other reports questioning how much investigating Rather really does. Is he a journalist or anchorman? Oh well, as the big 3 newscasts lose their monopoly, other news sources emerge that give refreshing news, not the same "Xerox" versions.
1,000's of pictures from journalists risking their lives investigate and report mind-blowing killings and decapitations from the terrorists and insurgents but pictures of (gasp) a woman making fun of these insurgents wins a Peabody award. It's not right to mistreat our prisoners but pictures of kicking a Koran, forcing them to be awake, not allowing them to eat... as compared to sawing off someone's head hardly seems to be the biggest story worthy of a Peabody.
It has been proven that these legal questionings have saved our soldiers lives. How many lives are saved by killing contractors and Christian missionaries by our enemies?


BIG BROTHER, (OR SHOULD WE SAY BIG UNCLE SAM
?) (con't from a previous blog)
http://www.pcworld.com/news/article/0,aid,121077,00.asp
Well, it passed. No discussion on the floor of Congress. Not much in the news media. In 3 years we'll have these national I.D. cards.
This article brings up a good point that there won't be one national database at first anyway. So there'll be 50 state databases but they'll have access to all other states. So a hacker, terrorist, or whomever just has to find the least secure state's database and can have access to ALL records. Hopefully I.D. theft won't increase as a result...
What could also be on the same database? "The law requires that states verify and store electronic copies of a driver's photo ID, birth certificate, and Social Security card, along with documents showing name and address."
Also, this could cost 1 billion bucks per state plus a new staff of people to keep it all updated and secure. It's the union's finest hour. Maybe it's just me but I don't know if all this will keep well funded terrorists from finding some sympathetic Americans to do their evil deeds as well as other ways of defeating I.D. cards. Big beurcratic systems always have ways around it. That means the law-abiding citizens get to pay billions for yet another sytem that will be flawed and broken.
Well you fell safe from terrorists or the government after this? For the government has a 0% success rate in cutting back systems. For instance, Social Security cards were originally supposed to used to track benefits... by LAW. Now you use it for many things.
Koran vs. Human Life... Koran Wins by a Landslide
Koran gets Kicked - Americans and Westerners beheaded = Koran 1-0
Koran gets urinated on - Riots in most of the Middle East = Koran 2-0
Koran gets flushed down the toilet - 13 killed, 120 wounded = Koran 3-0 (even though it's not proven but that doesn't matter.)
Middle East believes all anti-Koran stories from their American media friends = Koran 4-0
American media are controled by President Bush - Koran 5-0
Saddam is gone and democracy can start to begin though most forget that in America it had an even bloodier start - Koran 5-0-1 (tie)
---------------------------------------------------------
Is this good news? It is when you look at the big picture and turn off the TV for some perspective. Think about our history books and the turmoil in this great country. The horrible 1930's depression, the 2 World Wars, the 1960's haze and hedonism, etc. Countries find their own way when freedom is given a chance. Freedom is like a child that has to learn the hard way in how to do what's best sometimes. Dozens of countries are finding out about the beauty of freedom for even America has much to learn but less then the other countries.
1Cor. 3:17 Now the Lord is the Spirit, and where the Lord's Spirit is, there is freedom.
Blog Search Engine