About Me
Name: HimOverSin
Location: Arlington, Texas, United States
First off, thanks for taking the time to drop by. HimOverSin, aka Hos, aka Craig. They only allow me 1,200 letters? That's just not fair. I mean, my love for my computer is a good 800 letters alone. To talk "About Me" I have to mention Jesus since He's all that is good in me. I also love my family, country, and free speech, so speak freely in a respectful way.
Links
This work is licensed under a
Creative Commons License
.
Archives
A place of friendly discussion about whatever God has put on my heart. Christian thoughts, politics, ramblings, and intelligent ideas (from other people). This is about the good things in life . . . mostly. Even strong disagreements are fine . . . mostly. Know that Jesus Loves you no matter what you've ever done . . . ALWAYS. IF you want to keep up with blogs email me to initiate my "blogsend" and it will automatically send you updates. ( goodnewsmostly@gmail.com )
Saturday, May 28, 2005
There There, It's OK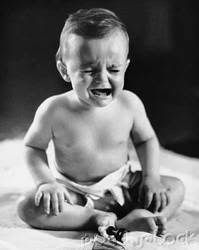 Don't cry! Though it IS sorta sad. In this great country with good news going unreported from Arlington, TX to Iraq. People are loving others more then ever but since we only hear and see the bad stuff, we assume the opposite.
Not much to report so I'll start blogging every Saturday now. (snif) (snif)
This will give y'all plenty of time to read the 100 + other blogs done since last December.
Wednesday, May 25, 2005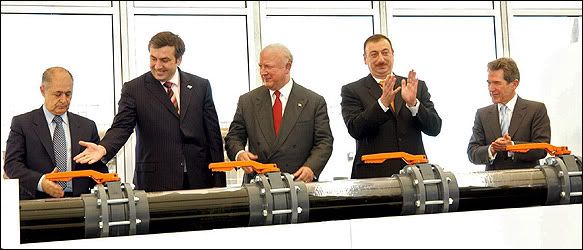 Pool photo by Oktay Mamedov
After 11 years, a huge oil pipeline is complete in the Caspian Sea. Oil will start to be loaded up this winter. It takes 6 months to fill up the pipes! More outlets to oil will drive the price down.
Even if you don't care about the price of oil, you'll care about your mutual fund portfolio which is directly linked to the current high cost of oil.
Tuesday, May 24, 2005
The small but growing stock market in Iraq is a great step in helping industry gain power. Unlike their stock market under Saddam, this on is independent. It has grown 12 fold since his forced departure.
Monday, May 23, 2005
Not Enough Good News...
Though it is hard to find good news on the internet, I'm cutting back to about 3 or 4 blogs per week for other reasons too. Some work I'm doing, family, veggie gardening, etc.
If one can't find
good news
on the internet, I guess one will just have to enjoy life and create some
good news
onesself!
Saturday, May 21, 2005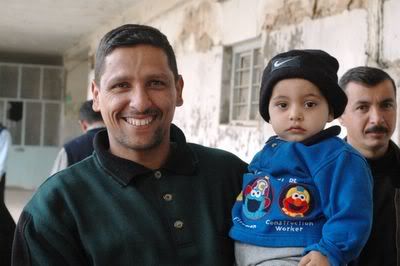 Iraqi Man By Michael Yon
Michael Yon's blog is so good and refreshing. He's been with an American patrol in Iraq for over 6 months and tells the bad that's going on but the good too!! Since he tells about the good things that our military are doing, he will probably get a "conservative" tag but the only tag he should get is "journalist."
Some highlights from the May 21st blog:
- He's been on hundreds of raids witnessing the capture and deaths of hundreds of enemy soldiers and terrorists but has never seen a Koran tarnished in any way.
- Most car bombs are by amaturs that many times don't do much damage.
- They are NOT suicide bombers or martyrs but mass murders. The first two labels gives sympathy or credit where there is none.
- There are 5 groups that oppose the new Iraq. Old regime members and extremists. They mostly hate the other anti-new Iraq groups but differ in their causes from wanting Islam to rule the world to getting their power back as a minority Muslim group.
- The Iraq Army recruitment stations being bombed makes the news every time but rarely do we hear about their growing numbers and many successes against these 5 enemy groups.

Great blog who is also linked to the right ---->

One last note by me:


Funny how Christian martyrs are usually innocents being killed by murders whereas Muslim martyrs are usually murders killing innocents.



Wednesday, May 18, 2005

Media Research Center recently had their awards show for liberal bias winners. It's pretty funny and proof as to why ABC, NBC, and CBS are losing the public trust. I have a feeling that Newsweek might be in next years show...
Here's an entry from Rather that was runner up for one award:
"Tonight, savagery in the streets of Iraq. Ten Americans die in a single day, four of them civilians murdered, mutilated and dragged through the streets. Who is behind this? What drives American civilians to risk death in Iraq?
In this economy, it may be, for some, the only job they can find.
"
— Dan Rather on the CBS Evening News on March 31, the day four American civilians were killed and mutilated in Fallujah, Iraq.
Tuesday, May 17, 2005
Last Friday saw a great event involving 2 things that most Texans love more then anything... our soldiers and fishing. May 13th turned out to be "lucky" for over 1,000 soldiers from the
largest
Army base appropriately placed in Texas at Fort Hood.
This officially sanctioned fishing tournament with a $5,000 grand prize saw an exodus of civilans who donated their boats for the early morning event. On boat owner who was on a Fort Worth talk radio show said, "I've never seen so many boats on a body of water." For those who don't fish, they could enjoy live entertainment, carnival rides, free golf, 5k fun run, Budweiser Clydesdales, sermon by author and Bishop T.D. Jakes, B-1 Bomber fly-over, and free food!
God Bless our troops. Battling terrorists, rebels, (and as my last 2 blogs showed), the all-important P.R. battles that spell the difference between victory and defeat.
Monday, May 16, 2005
Another quote and thought about yesterday's blog:
"We regret that we got any part of our story wrong, and extend our sympathies to victims of the violence and to the U.S. soldiers caught in its midst," Mark Whitaker, Newsweek's editor, wrote in a separate note in the issue.
Of course, other articles show a different side with quotes saying that the information was correct but issues were in how they found information. Then Whitaker said, "
The riots started and spread across the country, fanned by extremists and unhappiness over the economy," Yes folks, they riots were not due to their flimsy story but "the economy." Can we trust this man or Newsweek??
Remember when Monica Lewinsky scandal started? Newsweek had many insiders confirming the sexual affair. They had a real story but refused to print it which made Matt Drudge a household name. Here's the original story:
http://www.drudgereport.com/ml.htm
Why were they slow to move on Monica but too quick to run on a weak and sketchy story about the war on terrorism?
Sunday, May 15, 2005
Well, we have Rathergate for Dan sprinting too quickly to get out a bad story on Prez Bush. Now we'll have Korangate. Yes, the story by Newsweek, one of the more liberal magazines out there, admits that its May 9th report that said U.S. interrogators desecrated the Koran at Guantanamo Bay by flushing it down the toilet might not be true.
The Pentagon is furious. Surely a large investigation will occur! 16 protesting Muslims have been killed and 100 injured during demonstrations. The story was by Michael Isikoff and John Barry.
This is so sad but I'm not sure which is more sad. That yet another news organization doesn't check its source and recklessly runs with a story that now has blood on its hands or the fact that this rabid response engulfed the entire Middle East. Afgan clerics were ready to call a Holy War towards the US and Israel. Why? An alleged story over ONE KORAN! It's a book people. It's not the heart.
Terrorists have killed thousands of fellow Muslims in car bombs in the Middle East with few protests and a single American soldier may or may not have flushed a single Koran and down the can and that gets their anger up. Good thing we don't riot or call for a "holy" war when they burn a precious American flag... We learned from the Crusades to act, not react. Maybe they should too.

Friday, May 13, 2005
As much as I wanted to leave yesterday's blog on top for a few days, this is important too. Some Muslim friends at www.freemuslims.org are organizing a large gathering in D.C. tomorrow. Should be thousands of people in attendance to unite religions and ethnic groups opposed to terrorism. It will be the largest Muslim gathering in the USA to make a stand to the Muslims opposed peace. If your in the neighborhood. Drop by!
Watch the news for any coverage. There should be plenty but who knows. Wonder if there would be more coverage if there was a bomb scare or attack there...
Thursday, May 12, 2005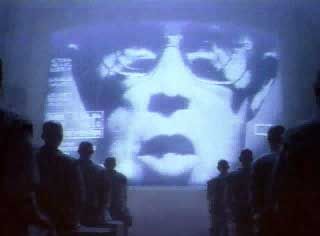 "
You have no rights but you're safe, happy?
"
Could this be the beginning of the end of this world? Fine by me for this world has nothing to offer us who know Him who saved us from this world. ID cards could be here as soon as 2008 to save us from terrorists.
Under this proposed law, federal employees could reject drivers licenses or identity cards that don't comply, which could curb Americans' access to airplanes, trains, national parks, federal courthouses and other areas controlled by the federal government. The bill was approved by a 261-161 vote. "Small government" loving Republicans are leading this charge. It's insane.
How hard could it be for real terrorists to get a fake ID in Saudi Arabia and come here and get a green card or temporary citizenship?
Or
, they could still steal a car and blow stuff up,
or
go to work for an airline baggage service and get in an airplane,
or
there are millions of Muslims in this country legally who could be recruited,
or
,
or
,
or
, etc.
That's right. If signed into law and you don't take this "voluntary" ID card, no more flying on airplanes, trains, courthouses, opening bank accounts, etc. Know this, if it gets passed, the government has a 100% history of increasing their power once the foothold gets established. This WILL lead to not being able to buy groceries (to starve the "terrorists"), can't buy cars (so the terrorists can't drive their car bombs), and buy a cell phone (so terrorists can't call their mullahs.) Unfortunately, we're all assumed to be terrorists if we don't have this ID card for that's how we could be treated.
Terrorists 'till proved innocent.
After it's quick success by the masses it could lead to other things. OOPS, you LOST yer ID card?? No problem, then "optional" ID cards can be implanted with currently available nanotechnology. Am I being paranoid? I hope so but please read this...
From Revelations in the Bible:
Revelation 13:16-17 "And it causes all, both small and great, rich and poor, free and bond, to receive a mark on their right hand, or in their foreheads, even that not any might buy or sell except those having the mark, or the name of the beast, or the number of its name.
(The bill as it now stands can be found in the linked article in the title.)
Wednesday, May 11, 2005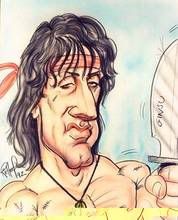 The Dutch may be known for their neutrality but this new body armor will hopefully save lives in the USA and other countries. It's only 10 lbs. and 10x stronger then steel! It's being tested in the USA right now. This will have many uses and we'll be hearing more about this new stuff soon.
That's right, the topless Rambo doesn't stand a chance.
Tuesday, May 10, 2005
A number of Christian online magazines have done articles for the upcoming movie, Kingdom of Heaven. Some of them talk about the many Crusades in the 11th Century as though a majority of their reasons for genocide, (my word not theirs), were understandable when taken into context of the midevil times and culture they were living in.

Truth is NOT relative. The movie might be fine but the history behind the movie needs to be condemned. It is a complex issue with both sides acting poorly.

Christians implore Muslims to have a zero tolerance for terrorism. Christians must have the same vigor for a zero tolerance on the mass murder, looting, and shameful acts done in the name of God during the Crusades.
Saturday, May 07, 2005
God Bless You MOM
So much we put you though. So much you endured. What is amazing is that you enjoyed (most of) it. You served us for all those years. Let us serve you for your remaining years. Regardless of the circumstance, unless it requires serious medical treatment, we're qualified to serve you now. Rest in that. Rest.
Oh boy. A movie about the Crusades from the 12th Century. Some reviews already are saying that it is somewhat accurate and shows Christian and Muslims as having good and bad elements. They say in this review above that it shows that "...it is not God's will for us to kill one another over 'God's will.'"
I hope it's true. But I have no doubt that some Americans AND Muslims opposed to the war on terror will see this movie and try to make some far-reaching connections. They will think that the old Crusades are back today disguised as the war on terrorism. All I can say is that the Crusades were wrong except when Jerusalem was attacked first which would be self defense.
Just know that America liberated Afganistan, Iraq, and Kuwait. These are no puppet regimes. It is true that Prez Bush insisted on them being a democracy but the political parties are up to the independent countries. They may even end up being opposed to America after they're truly liberated! That's no puppet government but the risk that free countries like ours make. The risk that they will support their liberators to a degree. Elected leaders usually try to help their constitutants so they can stay in power. Mullahs and Saddam had no such worries before and could do what they pleased.
Will this just be a movie, fiction mixed with historical facts to enlighten, or a terrorist recruitment tool. I pray that people who watch it see the good in it, not the archaic underside of Christianity.
Thursday, May 05, 2005
Author Michael Yon wrote this article below and took the picture. He's in Iraq with a very active American squad. I gave an email address to "register" and in one hour I got a reply so that I could see videos he took. (For information not available to visitors, please email to: MichaelYon@aol.com. Type "List" in the subject heading. No personal information is required.) One of a bomb being destroyed, one of a nighttime raid to get terrorists. Some are amazing, some are low-key, all are real life and therefore interesting. I've only scratched the surface of this web site but here's one interesting article about possible PsyOps in Iraq. Is it wrong? Yes. Is it right? Yes.
-------------------------------------------------
Iraq has a smash-hit television show: "Terrorism in the Hands of Justice." The hour-long episodes without commercials are shown six nights per week on a government-owned, US-sponsored station.
I watched an episode with nine Iraqi translators working for the US Army. The translators say they "love the show," "watch it every night," and that Iraqis "downtown" chatter every morning about the latest episodes.
The format is simple: Captured insurgents start by admitting to crimes, such as killing Americans or Iraqi civilians. The insurgents also admit that they have not committed the attacks because of religion or national defense, but because their families are threatened, or that they are paid for the attacks, or both.
Some admit to taking the money from attacks, then to getting drunk or hiring prostitutes. The suspects on the episode I watched had not yet been sentenced. This situation can vault the mind's eye to disturbing vistas about the state of "civil rights" here. Yet Iraq is at war with itself, and justice in this area of the world is as far behind, by comparison, as are their non-existent space programs. For any country not at war, the idea of forcing suspects onto television—before being sentenced—is far beyond the boundary of mere "wrong." But I walked among the smoking debris of yet another car bomb a couple days ago. Civil rights require that most people respect the civilization enough to stop those who do not. Some folks in Europe and America are saying that the show is a travesty of civil rights. They are right. Better ideas are welcome.
If the television program is a Psyop ploy, it seems to be working. The episodes have so angered many Iraqis that tips to authorities are radically increasing. In a raid some days ago, based on information from such a tip, Iraqi and US forces killed about 85 insurgents. I accompanied a reconnaissance yesterday looking for more insurgents, and the US captain leading the patrol told me that one of the suspects on the television show had come from a village we were in. The captain said that the suspect had admitted to beheading 23 captives.
Many Iraqis apparently have felt that insurgents were attacking the government based on religious duties. The "invisible" insurgents can seem omniscient and increasingly omnipotent. When the people see that many insurgents are merely killers for hire—street thugs who talk with street dialects—the citizens call authorities. Psyop, or just smart, the program is working.
The peace can be won here, but the steep road ahead is only for the strong.
Wednesday, May 04, 2005
We're home-schooling our children. It's not for everyone but my wife is smart and dedicated enough to pull it off. Our church also has many childern and teens being home-schooled. So swapping ideas, lots of social events, and trading off subjects that we're not up-to-date on are all doable. This title article talks a little about who does it and why.
Public schools do teach kids and I am not anti-public school though I wish at least a portion of my property taxes would be refunded since that's where a majority of school funds come from in Texas. We like it since there is one on one teaching! I know of many kids in our church who finished school when they were 16, have plenty of college AP classes. ( I really like that idea so that the more things they place out of, the cheaper college will be for us!)
About 2 months ago, one young man from our church was on the local news since he just finished college at 18. Since there is such a big support network, these kids are mostly well-rounded and intelligent who get along with adults and their peers. Most go on to big colleges and don't "freak out" and get along with their peers just fine.
Remember field trips in school being such a big deal? Our kids enjoy field trips all the time. It's not always the kids museum but even going to the grocery store can be fun and practical knowledge. ... we might need a 2nd computer someday too.
Monday, May 02, 2005
To: Christians who read this blog (and I'm writing this to myself too by the way.)
This link above is strange. The author barely hides her disdane for Christians courting other Christians for real estate dealings but that's not the strange part. Why do Christians so often try and escape the world and focus on looking after each other. How can we make a difference in the world if we're not around it?
If non-believers only hear Christian stances on hot social and political issues but don't first hear about the

love

behind the stance, the Real Message will go on deaf e
ars.

You will be seen as a rule keeper since they will not understand the Love behind the rules.
1Co 13:1 If I speak in the tongues of humans and angels but have no love, I have become a reverberating gong or a clashing cymbal.
1Co 13:2 If I have the gift of prophecy and can understand all secrets and every form of knowledge, and if I have absolute faith so as to move mountains but have no love, I am nothing.
1Co 13:3 Even if I give away all that I have and surrender my body so that I may boast but have no love, I get nothing out of it.
My church pastor talked about this last Sunday too. Christians have Christian music, shirts, friends, PENS, bumper stickers, auto mechanics, business directories, book stores, on and on. This is all ok but what about being salt and light to non-Christians? Why play it safe when we could change a life? Is life about safety or radically changing others and in doing so your self gets changed too. It takes a strong love to reach out of one's comfort zone to help others and even offer the Good News of Jesus. But that's what we're called to do.
Be in the world, just not
OF
the world.
This book is funny to me in the linked title above. "Rich Dad, Poor Dad: What the Rich Teach Their Kids About Money--That the Poor and Middle Class Do Not!" Nothing wrong with making lots of money but a book on it just strikes me as strange. Is it everyone's main goal in life to become rich? I guess some poeple don't understand that they need to spend less money then they take in, that debt is bad, and that good mutual funds will make money in the
Long Term.

So maybe the book and dozens like it serve some purpose if their priorities are correct. What is it about money that $oothes our mind and makes us forget what's important?
Love is the best investment. Time with family is the "money" of love.
Is Donald Trump happier then a poor man with a strong Christian family? Money is not the root of all evil. But the
love
of money is. I guarantee you I could find 100 3rd world Christian poor families happier in their dirt floor hut then some rich people with their millions. This may sound bitter to those who don't know me. No worries, I have a Masters degree and money could come easy with me and if my wife also worked full time. Are poor people guaranteed happiness? No, I don't mean to imply that either. Me in my modest house, with modest furnishings, shoes falling apart, but being around my beautiful kids reminds me that I'm the richest man in the world.
Heb 13:5 Be free from the love of money, content with such things as you have, for he has said, "I will in no way leave you, neither will I in any way forsake you."
Heb 13:6 So that with good courage we say, "The Lord is my helper. I will not fear. What can man do to me?"
(This blog is Part 2 to the link below.)
http://goodnewsmostly.blogspot.com/2005/04/priorities.html
Blog Search Engine