About Me
Name: HimOverSin
Location: Arlington, Texas, United States
First off, thanks for taking the time to drop by. HimOverSin, aka Hos, aka Craig. They only allow me 1,200 letters? That's just not fair. I mean, my love for my computer is a good 800 letters alone. To talk "About Me" I have to mention Jesus since He's all that is good in me. I also love my family, country, and free speech, so speak freely in a respectful way.
Links
This work is licensed under a
Creative Commons License
.
Archives
A place of friendly discussion about whatever God has put on my heart. Christian thoughts, politics, ramblings, and intelligent ideas (from other people). This is about the good things in life . . . mostly. Even strong disagreements are fine . . . mostly. Know that Jesus Loves you no matter what you've ever done . . . ALWAYS. IF you want to keep up with blogs email me to initiate my "blogsend" and it will automatically send you updates. ( goodnewsmostly@gmail.com )
Saturday, May 21, 2005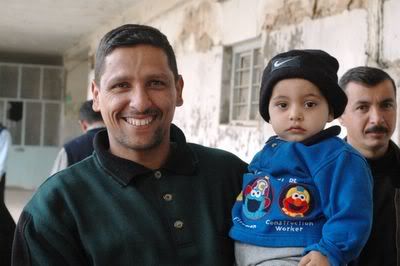 Iraqi Man By Michael Yon
Michael Yon's blog is so good and refreshing. He's been with an American patrol in Iraq for over 6 months and tells the bad that's going on but the good too!! Since he tells about the good things that our military are doing, he will probably get a "conservative" tag but the only tag he should get is "journalist."
Some highlights from the May 21st blog:
- He's been on hundreds of raids witnessing the capture and deaths of hundreds of enemy soldiers and terrorists but has never seen a Koran tarnished in any way.
- Most car bombs are by amaturs that many times don't do much damage.
- They are NOT suicide bombers or martyrs but mass murders. The first two labels gives sympathy or credit where there is none.
- There are 5 groups that oppose the new Iraq. Old regime members and extremists. They mostly hate the other anti-new Iraq groups but differ in their causes from wanting Islam to rule the world to getting their power back as a minority Muslim group.
- The Iraq Army recruitment stations being bombed makes the news every time but rarely do we hear about their growing numbers and many successes against these 5 enemy groups.

Great blog who is also linked to the right ---->

One last note by me:


Funny how Christian martyrs are usually innocents being killed by murders whereas Muslim martyrs are usually murders killing innocents.



Blog Search Engine